Dr K. won this contest, hands down, the best view out of a dental office.
This is the winner of the "Who has the best view out the office window?" award.
The above picture is looking out the window of Dr K's office in Tokyo.
It is the Kabuki-za Theater.
If you think your dental office has a great view, send a jpg to Flossy (at) BuyPOH dot com!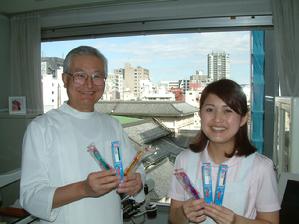 Dr. K. (r), is shown below giving a representative of Iwate Prefecture a carton of toothbrushes representing the almost 3,000 we sent him after the earthquake & tsunami. This is who we are. Dr. K. is our kind of dentist!
After your patients place an online order, remind them we only send three emails.
Order confirmation email (when we receive an order) to verify the order.
Order shipped notification email (when we ship the order).
Our "Did we do right by you?" follow up email (two or three weeks after shipping).
We don't do unsolicited email.
Three emails, we are done.
Send your patients to www.BuyPOH.com!