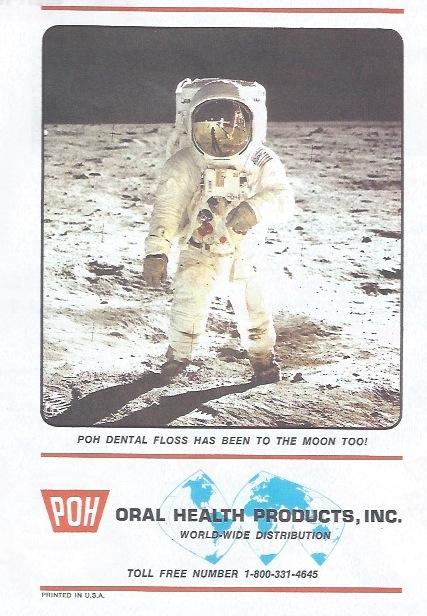 In 1969, POH Was There
We could not talk about it at the time. We were sure proud though. In the early 60's, Dr. Jones taught a group of Army dentists a class on Dr. Bass, personal oral hygiene and prevention. The First Cavity Assault Company was born, tongue firmly in cheek.
Through that connection at Redstone Arsenal in Alabama, Dr. Jones was approached by the Flight Medicine team of NASA. They had heard Dr. Jones knew a little bit about bacteria, and asked this question:
Can the flora and fauna in the oral cavity serve as the canary in the coal mine?"
Nobody at that time knew much about the effects of Zero-G, cosmic rays and other monsters of the new frontier. Nobody had sent anybody into space. Turning his thoughts and imagination to the question, Dr. Jones answered in the affirmative. He recommended that the astronauts floss their teeth and put the soiled floss specimen into a sterile bag, seal it, sign and date it and then after landing, NASA could culture and study the germs. Simple.
Then, NASA requested some floss. Doc Jones said we will send you all you need. Then they said that nope, we have to go through channels. Not too long after, a contract arrived, and Doc was told that it was the same boiler plate contract used by the Government to purchase things as diverse a pencils, rifles or even nuclear submarines. BIG contract. Doc signed off, and we were on board.
Tragically, Apollo 1 caught fire on the launchpad during a test. The command module was destroyed and three brave men died. Because of that, we had to fabricate a one-off dental floss spool container from stainless steel. Very few flammable materials were allowed.
In our office here in Tulsa, we have a limited edition print we are very proud of. Done by Alan Bean, it is of Neil Armstrong on the lunar surface in full moon suit, holding up his hands with index fingers up. Colonel Bean signed it by writing:
Dear Folks at POH, As you can see, you cannot floss while on the moon's surface. But if we could, we would ALL use POH!"
Thanks, Colonel!
From Kansas City to Kathmandu. Tulsa to the Sea of Tranquility, POH is there!