POH gets email, letters and phone calls from all over this nice planet.
From Tulsa to Tokyo to Tel Aviv to Tranquility Base, POH has been there! In January 2007 we started this forum. Pix of our friends here and there, usually on a mission, sometimes on vaykay. Send us your .jpg's, in front of a landmark, vista, posting, workplace or just a cool place in general. Or just let us know when you floss, #FlossTonight
Send pix to Flossy at BuyPOH dot com today and follow POH on Facebook and Twitter!
From July 3 through July 9, 2017, an adult and children's team from One Church Acadiana from Lafayette, LA, partnered with Matthew 25 International and traveled to Tingo Maria, Peru. Matthew 25 International is the only organization that brings missionaries into this area. This organization has helped the Shipibo tribe keep their families together and has also helped them to get back on their feet after a flood wiped out their entire village.

On their 7-day mission trip this team reached out and spread the Gospel to the Peruvian people while also learning more about their country and culture. While there, they hosted a Women's Conference with inspirational messages and poured out God's love to the women in this region.Their team encouraged and assisted with evangelism at a new church plant by Matthew 25 and hosted a Vacation Bible School. The group also ministered to the local children with evangelism, games, fun crafts and prizes, and distributed donated toothbrushes by POH as they visited several schools and a children's home.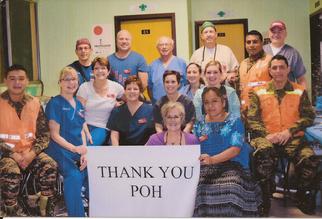 This pic is sent courtesy of the amazing Dr Bruce K. He wrote:
Dear Friends at POH,

Again, I say thank you! For years you have supported our efforts in Guatemala. I went to San Cristobal Verapaz in January this year w/our HELPS International team. We were able to tx over 600 patients in five days time! The medical side of the team saw ~1,000 patients and performed one hundred plus surgeries. We can't do this without your help. You can't imagine the joy on the faces of the kids (and adults) when we give them one of your toothbrushes!
Muchas gracias for 20+ years of support!
Dr K
POH's mission is helping people clean and keep their teeth. Dr K is helping us in our mission. The thanks truly belong to him (and others like him) who go the extra mile to serve their fellow human beings. Sincerely, thank you, Dr. K.
A set of pictures from Myanmar courtesy of Danna Link – Thanx for sending these! Danna was doing her thing at a couple of orphanages. One at Inle Lake and one in Yangon.
From Japan 
Our good friend Dr. Katayama requested relief supplies for earthquake and tsunami survivors!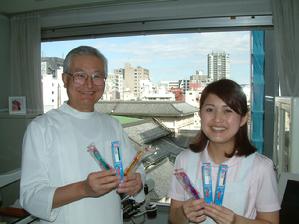 The above pictures come from the lovely folks running Vista Valverde B&B in Costa Rica. 
Tom and Susan went to some local schools, and even marched in a parade handing out toothbrushes!
November 2013 - St. Petersburg Russia
Carolyn T., First Baptist Church in Perryton Texas sent us these pix.
Part of the Buckner Shoes for Orphan Souls Mission Trip
Carolyn writes:
Thank you for allowing our team to distribute toothbrushes in St. Petersburg, Russia in October. We gave the toothbrushes to children in seven different orphanages, the orphan intake hospital and the outreach program that works with orphan graduates and children in that neighborhood. The pictures I am sending are of children at the intake hospital. They are placed here for medical evaluation and proper documentation before being placed in an orphanage. As you can see, this is the nicest, cleanest building we visited while there – still these children were very excited to get a toothbrush and some of them begged for two. Thank you again for all your company does to alleviate the needs and hurts of children around the world.
Here is a set of thumbnails to enlarge your heart. Morgan R. went to Jinja, Uganda with some toothbrushes and a big heart. She says:
"They went to 'Welcome Home Orphanage', the largest orphanage in Jinja for children up to age six."
 Thanx, Morgan, for your hard work!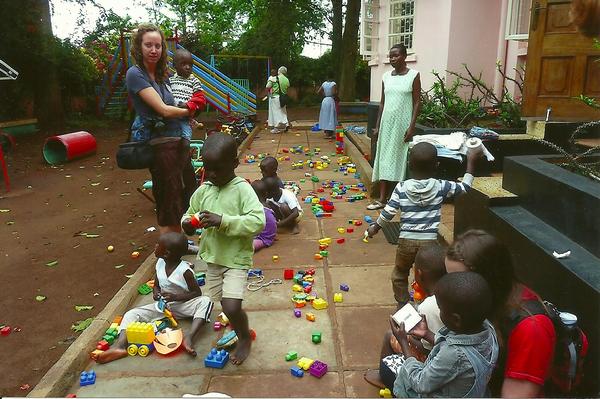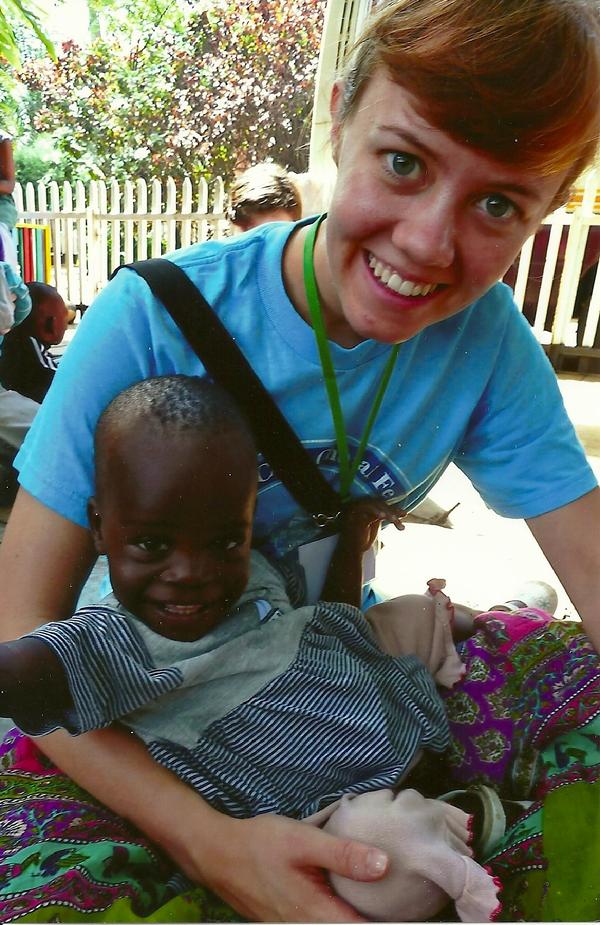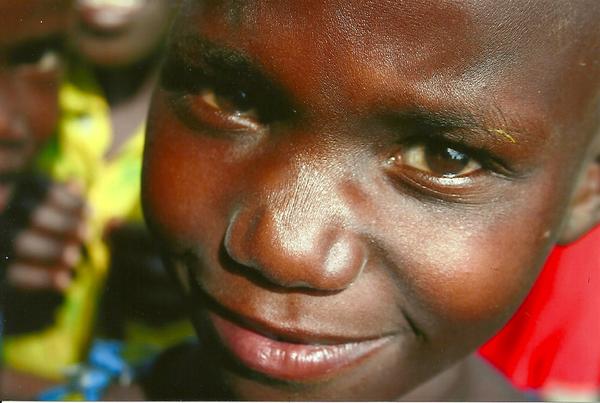 July, 2012
Layne M. sent these pictures in from her trip to Haiti. 300~500 patients a day for seven days. Personal oral hygiene instruction all around.
Thanx for sending in the pix, Layne!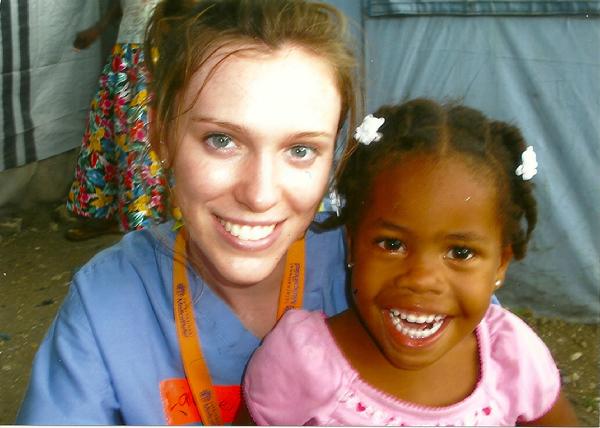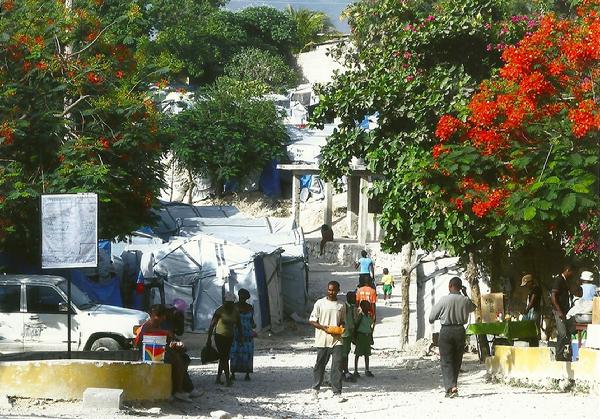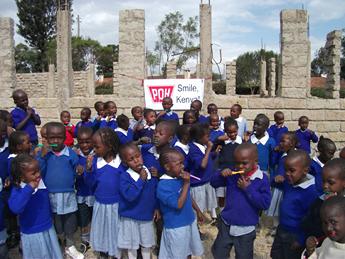 Spring 2011 
Once again our friend Dr Wilson L. was off yonder in Kenya helping people out. He insisted we make him a banner…
May, 2011
We received the below pictures from Dr Steven B., and Hygienist Jane B., and the team at Indiana University School of Dentistry. They went to Honduras recently, and said ​
Our dental team treated over five hundred patients, mostly children, over the course of on week." Outstanding service, ladies and gentlemen! 
Thank you for sending us the pictures.
In a letter dated 1/28/11
Dr Dale P of Landers WY sent this in, from a trip to Honduras with the Mission of Mercy project. The group treated over five hundred medical patients and two hundred and twenty five dental patients.
Our hat is off to them!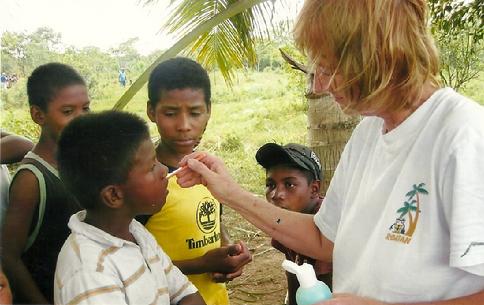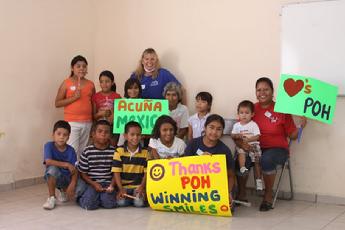 Fall, 2010
Danna L., (busy lady) has sent some more pictures, this time from a trip to Acuna, Mexico.
Scott P., DMD, went on a mission trip recently to the island of Montserrat.
The trip to Montserrat was the best one yet! Dr. P. handed out toothbrushes to schools, and even to the Government of Montserrat's Dentist, Dr. Coretta F.
We received a very nice letter from the Office of the Government House of Montserrat, thanking us for helping out.
Proud to serve, Dr P.! The thanks belong to YOU!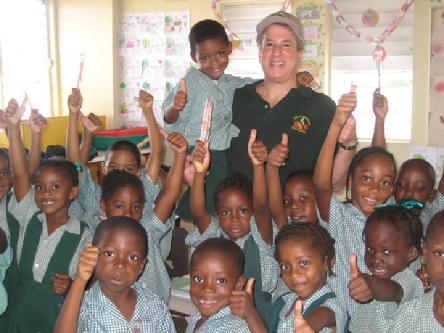 This is the operating theater, waiting room and consultation room for Mission of Mercy's trip to Honduras. All that is missing are year old Highlights magazines! Four villages benefited from the ministrations of three general helpers, one pre-med student, one interpreter, two physicians and two dentists. the group treated over five hundred medical patients and two hundred dental patients. The good folks behind this effort are Dr Dale P and Dr Phillip G of Wyoming. Thanks for letting POH be part of the team!
The set below come from Danna L., who took a trip to Malawi, Africa.
There are 88 orphaned children in Rafiki village.
All of them learned how to clean their teeth, thanks to Danna and her team!
To My Friends At POH –
A few hundred Cambodian orphans in Phnom Penh now have new POH toothbrushes. Here are some photos I thought you would enjoy. Several of these children have HIV, and one has AIDS. The folded hands gesture of Buddhists means a very respective "Thank You". I took the photos after extractions, hence the gauze. Thank you for your generosity. Aren't these kids beautiful?
Kind regards, David E. DDS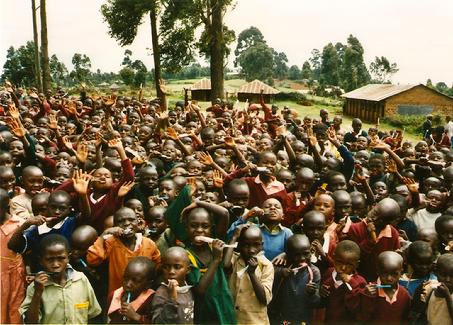 Winter 2009 ~ 2010
One of our favorite people, Dr Wilson Lathrop sent us this picture in 2004. We only now took it out of the frame to scan it.
This is the village of Itibo, Kenya. At least the children of the village of Itibo. And they all got toothbrushes! Thanks again, Dr L.
September 2009
We got this set of pictures from Susan S., RDH. Outdoor operatory, adoring fans, a mile long waiting line.
What a way to practice! Thank you so much for sending the pix.
This was from the Christopher Ministries July 2009 Medical/Dental Mission to Duyure, Honduras.
Summer 2009 
Guess who did a local billboard advert?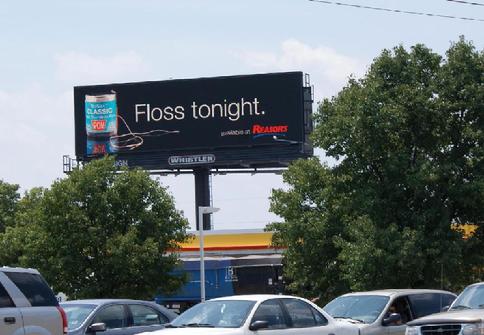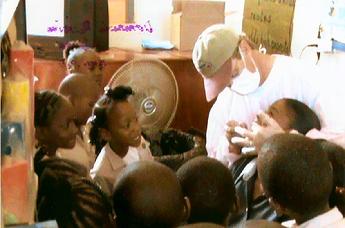 Spring 2009
The picture of this examination (rounds?) comes to us from Dr Curtis H. and Joan G., RDH – Dominica mission, Nov. 2008.
The little girl in front of the fan is an aspiring clinician, we bet! Thanks for letting POH be part of the team!
Spring 2009
Bob,
Thank you for the donation of 2 gross of tooth brushes for our international volunteer dentistry programs. We recently returned from Ecuador, attached are two photos of some recipients of your generosity. We were able to distribute POH toothbrushes to both adults and children in rural areas of Ecuador, Mexico, Guatemala, Haiti and Honduras. There were 2,000 recipients, but the photos of these kids are some of the cutest, and they show your product logo as well. I'll have our secretary print off the two photos, and will include them in the check I am sending to cover the cost of the freight of the toothbrushes. Thanks again.
Sincerely,
Tim C,
Professor, IU School of Dentistry.
(We picked our fave of the two-the one that shows the logo the best. Shameless… POH 🙂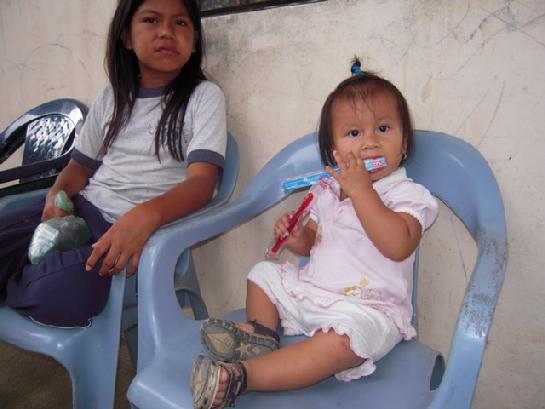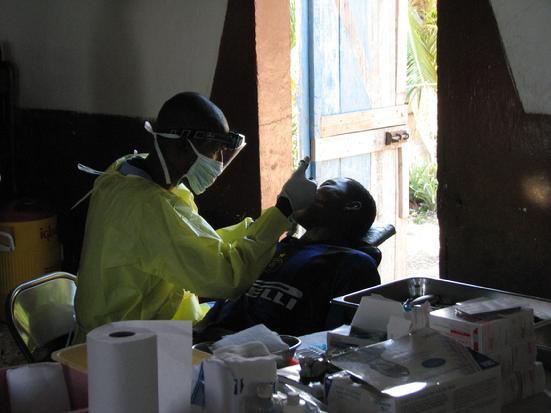 Spring 2009
Mission to Haiti
Hello Sarah & POH,
We are back from Haiti after a wondrous trip. We saw over 1200 people in 4 days of clinics. We had a toothbrush and fluoride station where we taught the children how to brush their teeth…Our dentist pulled over 100 teeth…
Thanks so much for the toothbrush donation! They were much needed and appreciated! All of us were touched by the gratefulness of the Haitian people for our attempts…
I've attached a newspaper article (with photos) that was published here about the trip, as well as some photos directly related to teeth! If you would like more I have a DVD available…
We will soon be planning our next trip and if it's okay will include you in future donor requests…we also receive ongoing communications from the Wrays, a mission family in Haiti, which we would love to share with anyone interested in what kinds of things we support in Haiti…
Please let me know if you would like to receive these updates…
Sincerely and gratefully,
Barkha (an RN from Missouri)
Percept® black dental floss mentioned in Australian Dental Hygiene newsletter:
Late Winter 2009
The hard work of Dr Sarah Levinson and her team did a lot of good in Honduras.
Thanks for letting us be part of the team, Dr L!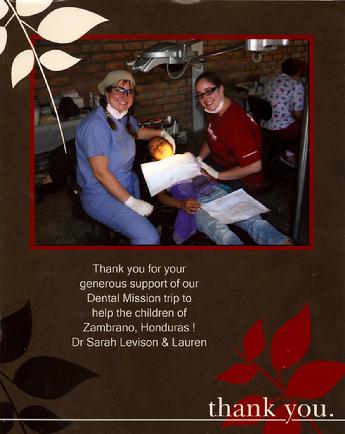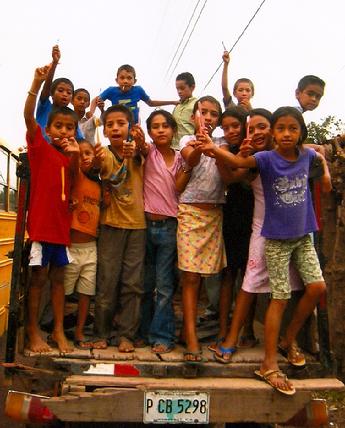 Fall 2008
These youngsters in the back of the pickup seem pretty happy with their new toothbrushes! Susan S., RDH, from Nashville TN sent this pic in, from a mission trip to Honduras. Duyure, to be precise. Dr B saw over 100 patients that week, in his makeshift outdoor clinic. The orphanage nearby received a goody bag too. Thanx, Susan!
We just got this one in in August, 2008. 
Carolyn T. from Farnsworth, TX sent it. These are kids from the Burial Ground neighborhood of Belize City, the poorest area of Belize.
Thanks for helping us in our mission!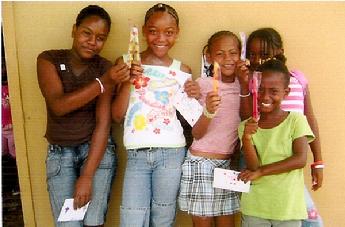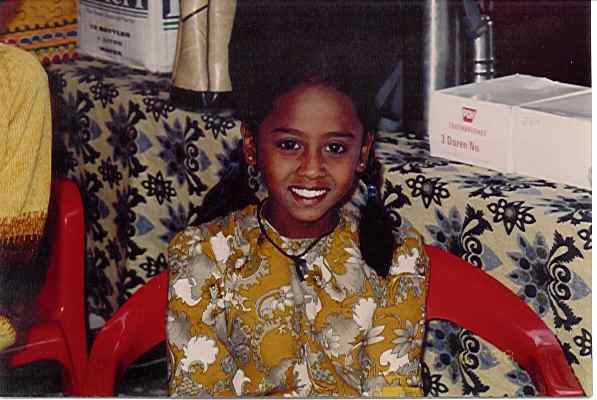 In terms of linear distance, this submission traveled the most miles.
Sent in by a Dentist on a mission trip.
Rangitoto Island in the background is the tip of a dormant volcano.
Thanks, Tom!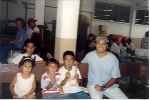 We get pictures from mission trips all over the world.
It seems that people really are all the same, when they sit in a dental chair!
Hi POH! Here's a photo of the valley at Wilson's Creek, Australia. 
As horses make the landscape more
beautiful, here is Jinx posing for the photo. He does not floss, but I'm sure his teeth would last longer
if he did, especially if he used POH! Thanks, Asa M.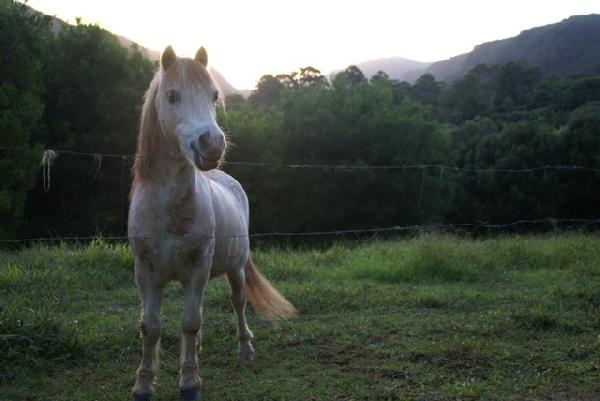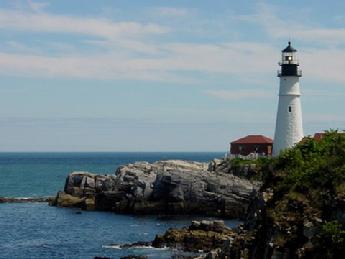 July, 2007
Hello Flossy Friends! I hope you've flossed today! This is the picture long ago requested for your world page.
Unfortunately, the POH container was in the car when I had the opportunity to take this shot. I am certain that one of your 'puter wizards can pop a POH can in there somewhere! FYI: I took this picture yesterday at Ft. Williams in Cape Elizabeth, ME.
As you can see it was an exquisite day! Well worth the sunscorched face and arm! The lighthouse is Portland Head Light, the most photographed lighthouse in the world and the rocky Atlantic coast is quintessential Maine!
Your friend, Barb
Keep sending in pictures! Tell us your POH story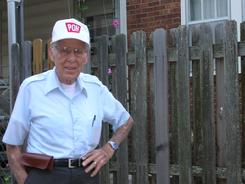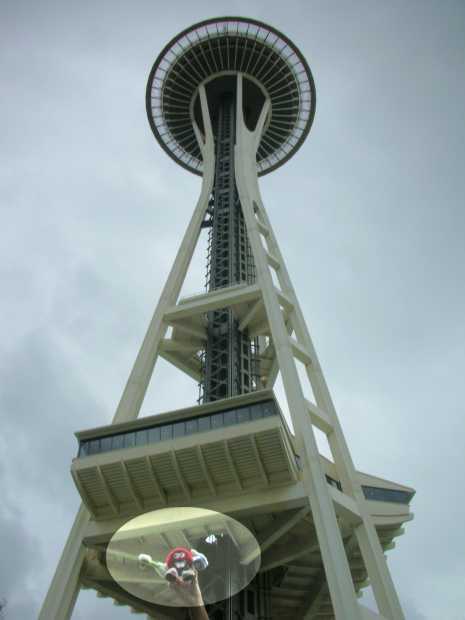 From the Space Needle, in Seattle.
Flossy doesn't like heights!
We took the liberty of bringing up the brightness.
Fall, 2006
This picture comes to us from Serene G, an RDH who traveled to Jamaica with the 1,000 Smiles dental project.
Our thanks go out to all the people who worked so hard to help with this mission!
And special thanks to Serene.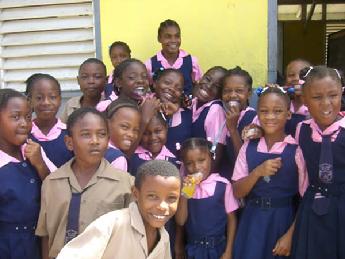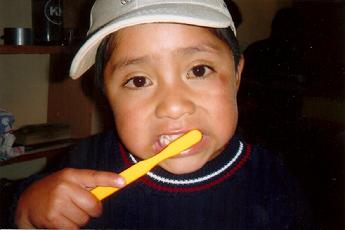 Spring 2008
The picture of this fine young man comes to us from Dr Bruce Kudak, St Cloud MN – Dr Kudak went on a mission trip March of 2008. Thanks for letting us be part of the team, Dr K!
Summer 2008
This picture is from our friends in Japan. An ad for POH in a dental journal.